Thank you to everyone who has already responded to the latest review of the IMS portfolios which was sent out last month. We've had an excellent response so far, but if you have not yet had an opportunity to send us your acceptance, we would be grateful if you could so that we can make sure your investments are in the latest fund selection. You can respond to this message if you would like another copy of the review to be sent to you.
I said in the update that accompanied the recent quarterly review that inflation was approaching double digits which was not intended to be a prediction, but rather a statement of fact. This fact was confirmed in the latest update which showed that the UK hit a reading of 10.1% for the 12-months to July, making us the third developed country to pass 10%. The rate is rising rapidly as energy bills have tripled from the level they were at a year ago, and the effect is worse for businesses, where there is no energy price cap.
Barely a day goes by without another research house or investment bank issuing a prediction for where inflation rates will sit in 2023. Midway through the month, Citi reported their forecast of 18% but they were trumped a week later by Goldman Sachs which is predicting that the rate could top 22% next year. As always, the headline rate hides the details and many items in the typical shopping basket such as milk and butter are already three times higher than the latest number.
The impact of inflation on the wages of UK workers was highlighted during the month with an effective fall of 3% coming despite nominal (i.e. ignoring other factors) wage rises remaining strong on the back of continuing high levels of employment. It is not surprising, therefore, that the latest UK consumer confidence score is the worst it has ever been since the data started to be collected in 1974, which correlates with a fall in retail sales of 2.1% in the three months to July as shoppers stayed at home. The results of the Conservative Party's internal process to select a new prime minister will be announced next week and whoever has the dubious honour of winning will have quite the task ahead of them to address these interconnected social and economic challenges.
UK wages drop in real terms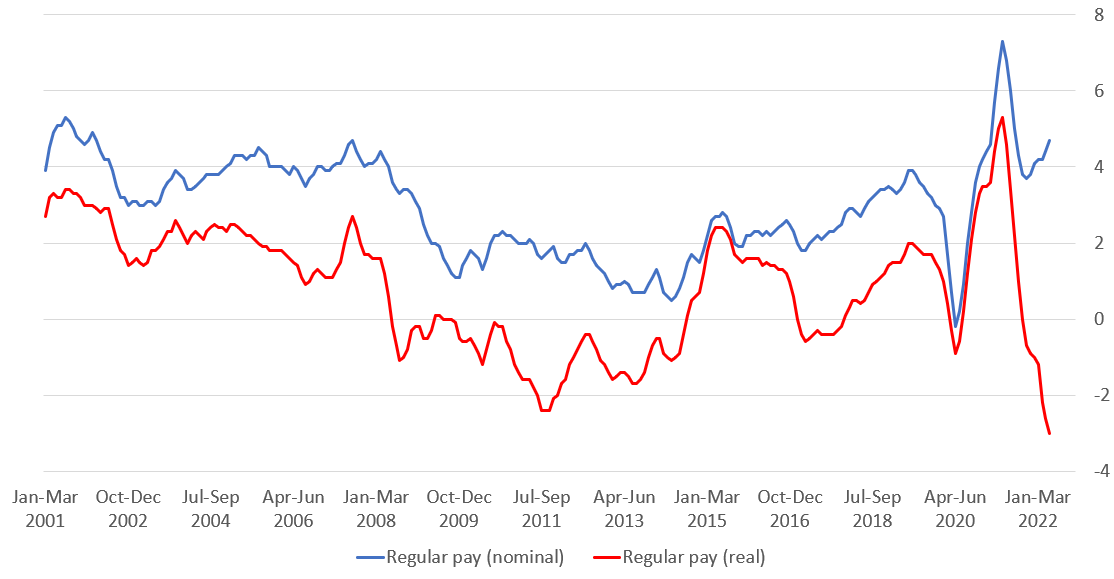 Source: Office for National Statistics
This all adds to fears that the UK is heading into a recession, essentially two quarters of negative economic growth. UK GDP was very slightly negative in the last three month period to the end of June. The drop of 0.1% follows a rise of 0.8% in the first quarter and despite being a better result than had been expected, it follows the Bank of England's (BoE) prediction that we will shortly find ourselves in a recession that will likely remain in place until deep into 2023. The biggest contributor to the drop was the services sector which looks set to continue to struggle as high prices heap more pressure on household incomes, but the data was exacerbated by the Jubilee celebrations which led to a 0.6% fall in June alone.
On the other side of the pond, the situation in the US is a bit different, with the American economy appearing to be a little ahead of ours. The US is already in a technical recession after it was confirmed that GDP fell by 0.9% in Q2 following a 1.6% fall in the first quarter, however, because of a quirk in the way recessions are labelled in the US, they are not officially in one at this stage as employment remains strong. The inflation cycle also appears to be further along than ours, with the year-on-year rate falling from 9.1% to 8.5% in July.
Inflation at a turning point?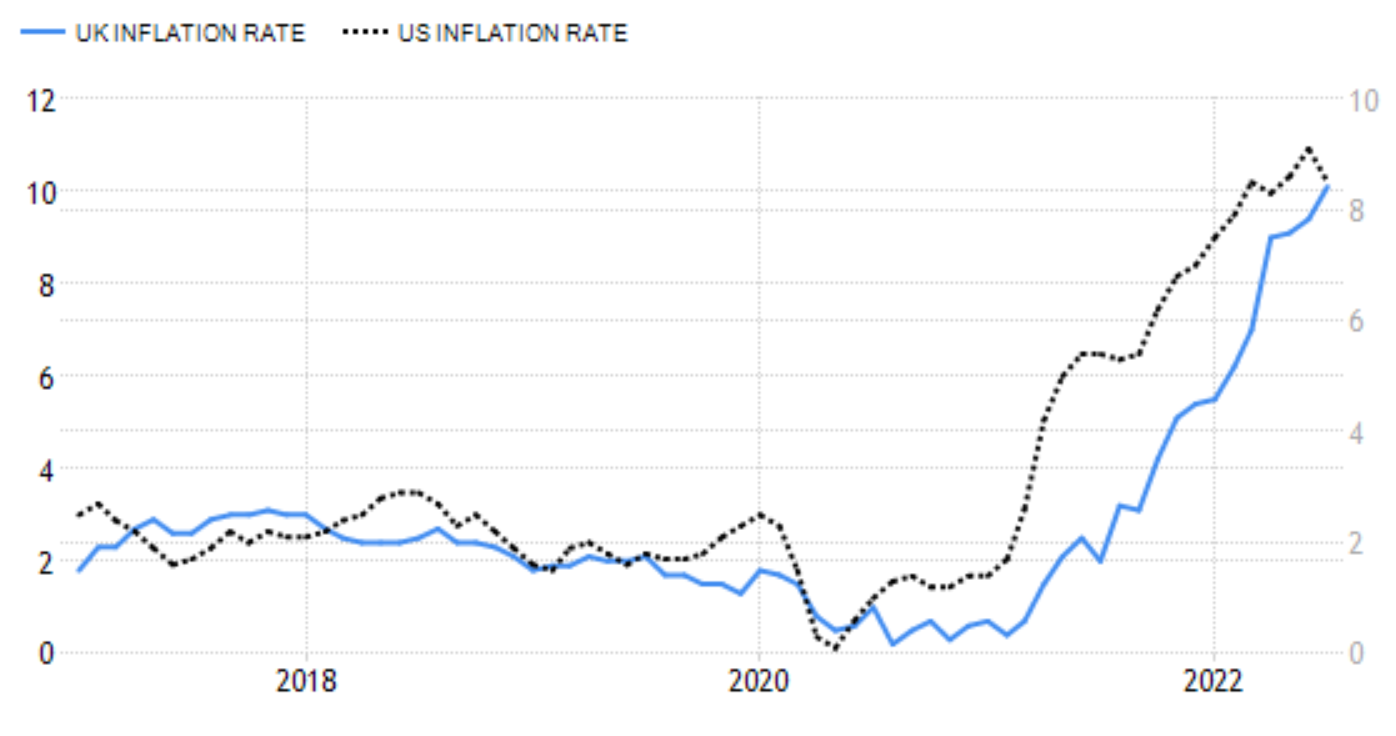 Source: tradingeconomics.com
The rate, which was lower than the 8.7% that had been forecast, came thanks to a drop in petrol prices but food costs remained high despite a fall in grain prices following the resumption of some exports from Ukraine. On its own, the lower rate doesn't seem likely to deter the Federal Reserve (Fed) from its current mission (which seems to be about causing a short and sharp recession in order to bring the economy back into line), but it initially gave some hope that the central bank will need to be less aggressive in raising interest rates.
Speculation around this point was the major factor in returns during August. Many markets around the world had been on a positive run over the first half of the month as investors interpreted the recent fall in prices as a sign that peak inflation might already have been reached which helped to reduce expectations for the next Fed hike from another 0.75% down to 0.5%, although there are a lot of factors that could challenge that narrative. The peak has been erroneously hailed previously and various members of the Fed were quick to go on record to say that they still have a lot of work to do to get the inflation rate back down to their preferred 2% level.
Comments from the Fed's chair, Jerome Powell, just before our bank holiday weekend, served to reinforce this view. His update on the outlook for the US economy (which is essentially a proxy for broader developed markets) was largely in line with expectations which had seen stock prices falling in anticipation. He confirmed that the Fed would continue its strategy of raising interest rates to try to control inflation, however, he said it would likely "become appropriate at some point to slow the pace of policy rate increases" but then maintain the rate at a "sufficiently restrictive" level for some time.
Next month we will find out how much the Fed along with the BoE and the European Central Bank plan to increase interest rates and this will give markets a little more to work with. Regardless of the decisions they make, the challenges being faced by the global economy look set to continue for some time yet. From a market perspective, a recession does not necessarily imply poor returns, however. In fact, of the six recessions experienced in the UK since the 1970s, markets have returned a better-than-typical 13% on average in the 12 months that followed while in the US the average is 22%.
Whatever happens, it is more important than ever to have a clear plan for your finances and to ensure that your investments are well diversified. Volatility can be concerning, but a balance needs to be found between understanding these risks and being defensive, which could lead to inflation eroding returns.
Market and sector summary to the end of August 2022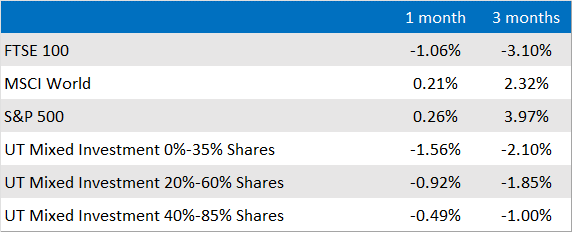 Source: Financial Express Analytics.

Past performance is not a guide to future performance, nor a reliable indicator of future results or performance.